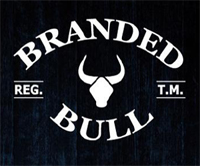 What is Branded Bull®?

Branded Bull® is a premier, cutting-edge apparel maker that prides itself on its Workwear / Farm & Ranch lifestyle wear – what they like to call Comfortwear. They design their apparel to be comfortable from dawn to dusk, and durable enough to withstand today's toughest workers. To win and keep their customers, they adhere to three fundamental principles:

Sell only apparel that they have tested themselves and wholeheartedly believe in.
Develop a new product only if it's better than the last.
Guarantee everything – unconditionally.
Branded Bull® offers a modern fit, style and colors for today's generation of American workers. These consumers are looking for apparel that provides a great fit and supports the job at hand. But they also want style and comfort that they can take from their workplace to the rest of their world. Branded Bull®'s mission is to provide its customers with the best and most versatile work wear – and save them money without ever compromising value. Style. Comfort. Durability. Value. … This is Branded Bull®